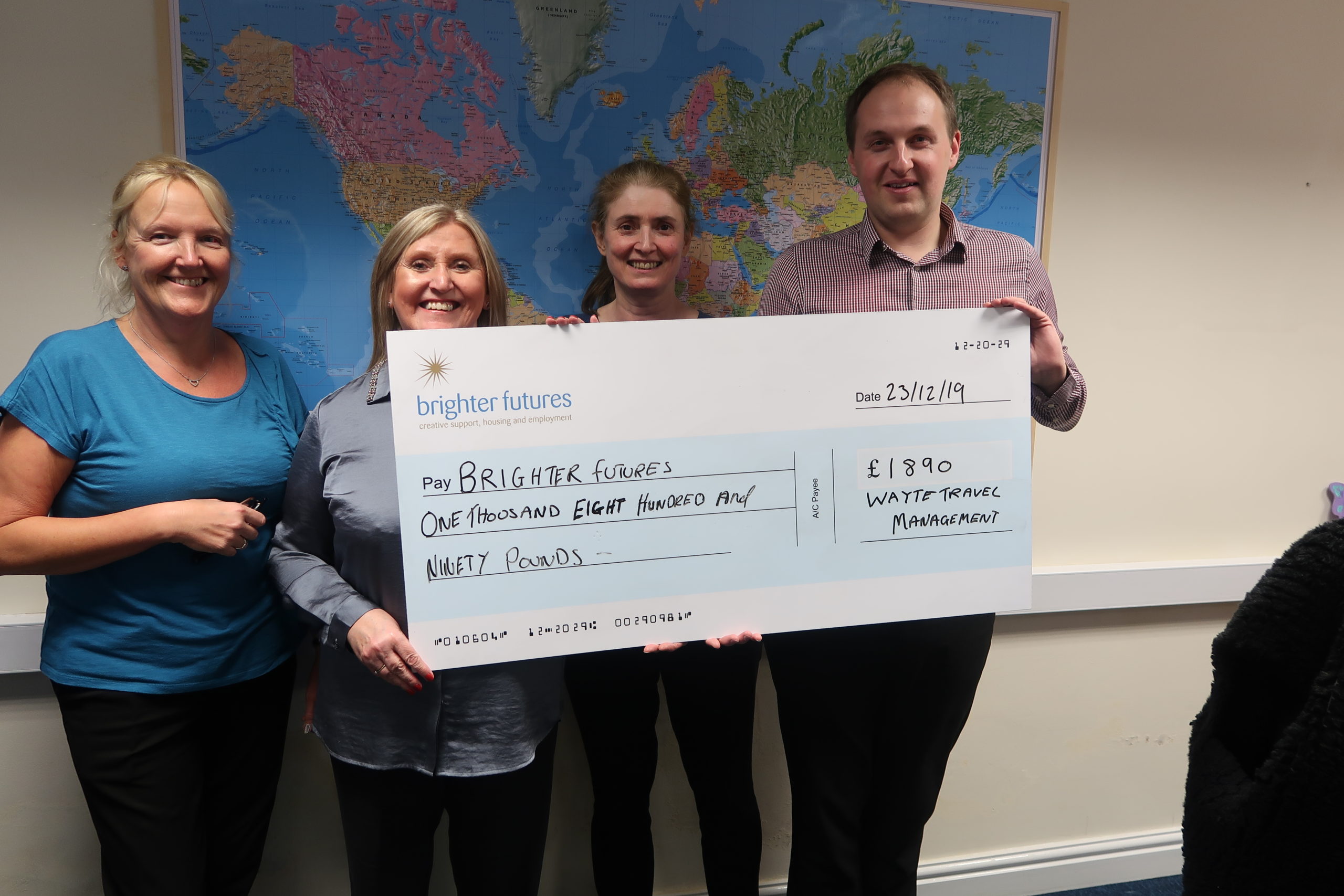 Brighter Futures will provide a further engagement opportunity for rough sleepers thanks to a kind donation of £1890 from Wayte Travel Management.
The final total will be used to support different areas of the service – and will importantly fund things such as food, drink, and clothing for vulnerable people in Stoke-on-Trent.
£890 will be used in total – with all essentials carried onboard the Brighter Futures Community Outreach Vehicle during outreach.
Each week, the Outreach Vehicle takes vital support out to people, such as a mobile healthcare service. It is hoped that being able to offer extra essentials will encourage two-way engagement between support services and the customer themselves – as part of a long-term aim of helping them move away from the streets.
The remainder of the money will be used to improve IT access available at the American Clubhouse in Burslem.
Wayte Travel Management, who raised the money through an auction at their staff Christmas Party in December, has four offices based in Stoke, London, Manchester, and Jersey. Wayte Travel have been business travel specialists for over 40 years, their expert members of staff provide a range of services including; one point of contact for all flights, hotels, rail and other elements of travel, with a 24/7 out of hours support at no extra charge.
Brighter Futures Chief Executive, Helena Evans, says: "We can't thank them enough for the money they've donated to us. There is always a big demand for our services, and this will help us with the vital work we do to help people move on from the streets.
"We want to be able to support as many people as we can and any opportunity for engagement is vital to that.
"We support people sleeping rough 365 days a year – and we accommodated people on 278 occasions between 2018/19. Hopefully, by being able to provide extra stuff on outreach we're given the chance to learn more about someone and direct them to the correct support for their needs.
Wayte Travel Management Managing Director, Chris Morris added: "We are delighted to see the monies raised go to such a worthy cause. It is down to the kindness, generosity and good nature of our employees that we are able to help fantastic local causes."
Brighter Futures is a leading provider in the West Midlands of expert and professional help, providing support and accommodation for people living with multiple and complex needs.
For more information on Brighter Futures services, visit www.brighter-futures.org.uk.
-Ends –